Once Was Closed, But Now Is Open!
The Purple One!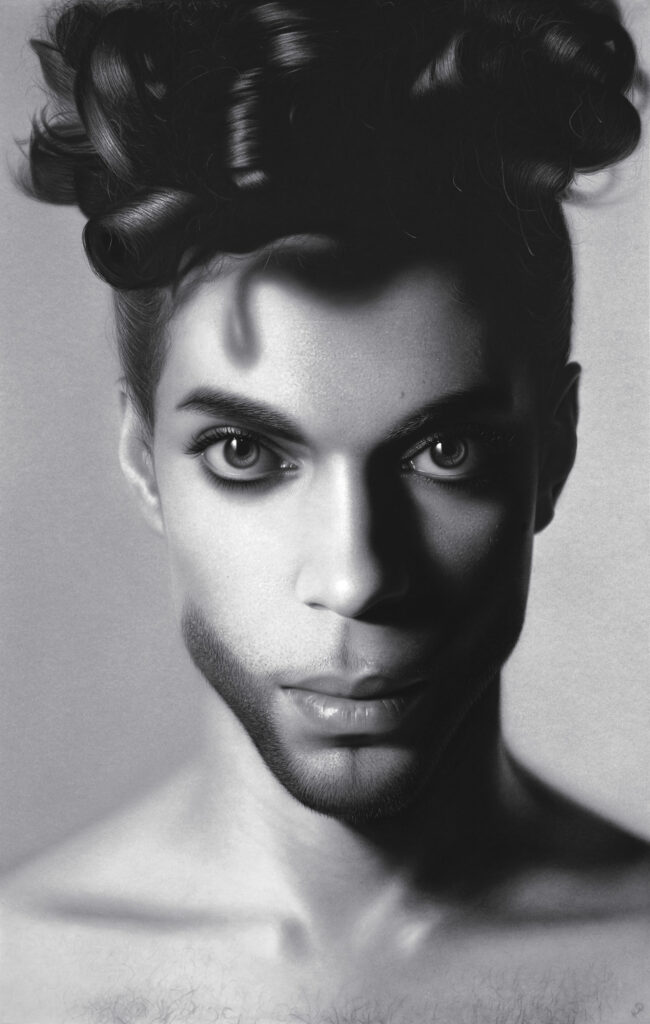 Before I write any further I'm sending you all love and good energy during these peculiar times. I hope you and yours are all keeping safe and well.
It marked 4 years on 21st April 2020 since the Legendary musician Prince Rogers Nelson died.Prince was not only a genius musician who could create timeless musical masterpieces but was also an enlightened being who wasn't afraid to express himself in a manner which defied society's norm.
I connected so deeply on a spiritually level drawing Prince that I ended up doing something rather special. Something I wasn't aware I was capable of. With thousands of reference images and video footages studied for hundreds of hours over the past year, I felt it was enough to attempt to open up the eyes of Prince without any photographic reference at hand whilst drawing. There was an intangible presence I felt surrounding me, almost as if the spirit of Prince was right there with me – guiding me along the way.
Originally my intentions were to strongly reference the beautiful photograph that the late legendary photographer Herb Ritts took of Prince with his eyes closed. I was planning on having an exhibition this year where I would have included a drawing of Prince with his eyes closed to accompany a few drawings from my previous series of portraits called "Interludes".
I started drawing Prince around this time last year but for some reason I struggled and procrastinated for several months. Fortunately I managed to resume the drawing in February this year but only to discover that the world as we knew it was going through some kind of pandemic.
I managed to get through drawing most of Prince's hair but faced another creative block which hindered me drawing for a couple of weeks. After a very vivid dream I had about Prince I felt compelled to open up Prince's eyes. As a subconscious response to the current events most of us are facing on earth, I felt inspired to open up Prince's eyes to highlight a state of alert presence. To be in the now and to be fully aware of our surroundings.
To date, I feel that this drawing has been my most emotionally imbued one yet. With over 300 hours of pencil to paper and countless hours of the initial study and research. This portrait has brought a tremendous degree of fulfilment and I deeply feel it has now transformed my ability as an artist to a whole new level.
This drawing is official available for purcahse!
To inquire please contact: [email protected] or reply to this email.
Portrait Reveal
Of Top Fashion Model!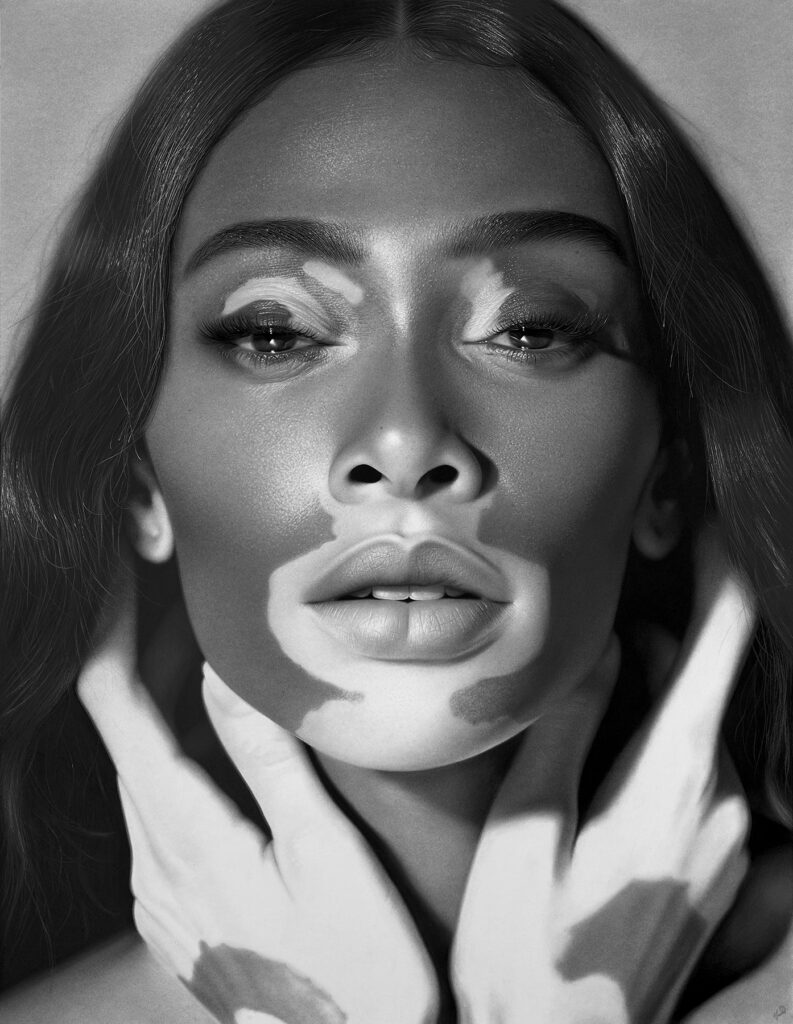 A couple of months ago in February, I revealed my portrait drawing of model – Winnie Harlow. She is known to the masses as a fashion model and also known as one of many who has Vitiligo. Vitiligo is a condition in which skin loses its pigmentation in areas of the body.
Through our conditioning we have given a label to this skin condition. A label which has made many who have the condition feel 'different' causing an effect emotionally and psychologically.
One of the reasons I felt inspired to draw a portrait of Winnie Harlow was not only to raise awareness to the skin condition she has but mostly because I was moved by how proudly she wore her skin. From following her journey through the years it was beautiful to see how Winnie's confidence wearing her skin on the platform she has as a model, has encouraged those with similar skin conditions to embrace the skin they are in.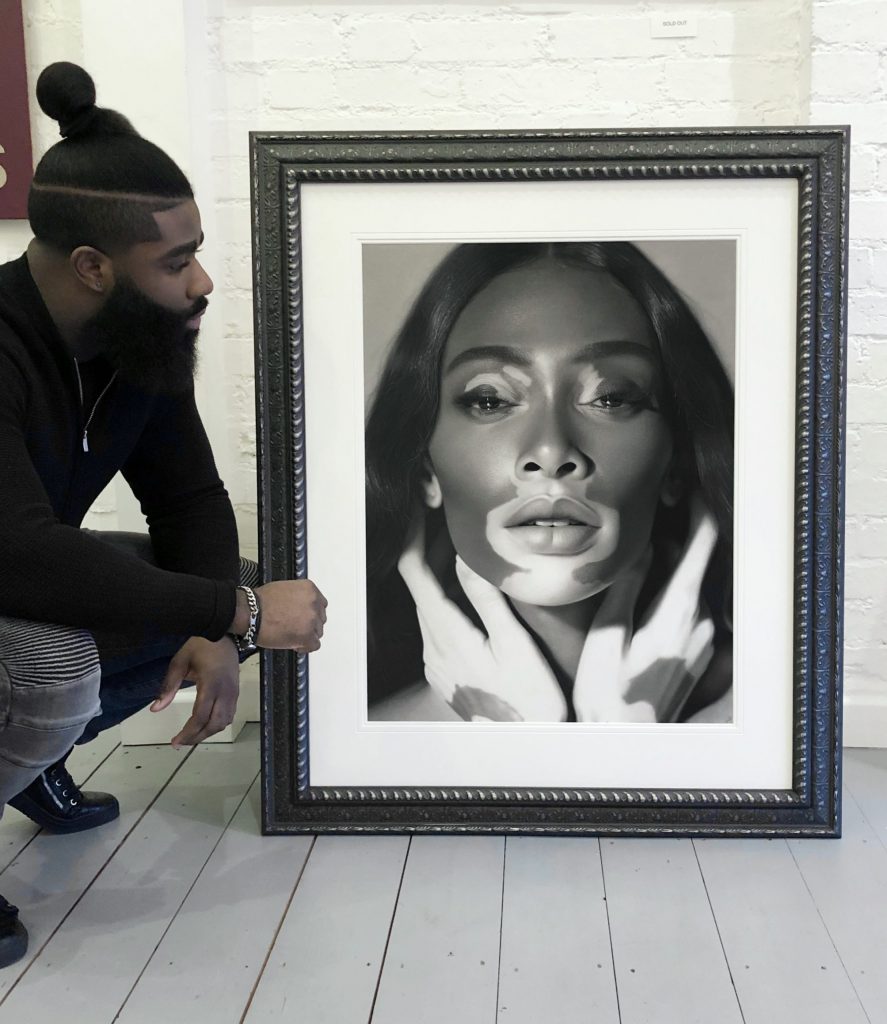 Meeting Winnie Harlow and unveiling her portrait was truly a moment I will cherish always! She is the first public figure I have drawn that has fully embraced my art and who I have had the pleasure of meeting.
To watch a video of the unveiling click this link: WINNIE HARLOW UNVEILING
Despite the UK prepping for what has become a full lockdown, earlier in March I conducted a day workshop and had the pleasure of meeting this amazing bunch. It was such a pleasure sharing and teaching my techniques to such a wonderful and talented group of people.
There were a few students who were unfortunately unable to travel from countries which went into a shutdown early. Hopefully once all has been replenished and opened up again, I will be having another workshop in London later this year!
Alexandra Park School
Also in March I had the pleasure of speaking to secondary year group students from Alexandra Park School in London. An incredible reception the students gave me which always reconfirms to me the importance of art in schools.Since 2013 I have visited over 20 different Primary and Secondary schools across the UK. I'm grateful for the opportunity to share some words to the students about my artistic journey.
Growing up I never felt art was seen as a "serious" subject in school, nor did I feel encouraged to pursue it after school. Now, I feel obligated in a dutiful way to go into schools and plant the seed of encouragement within the hearts of young creatives. Letting them know that it is possible to make a living through art, but most importantly, that peace and fulfilment can be found when you do what you love. Without us even knowing at first, doing what we wholeheartedly love eventually becomes a service to others and I truly feel it is one of the most selfless things we could ever do.
Sending lots of love to you all! Thank you for your continued support.
Be safe. Be well!

Kelvin
4th Floor, Silverstream House, 45 Fitzroy Street, Fitzrovia, London, W1T 6EB
No credit checks required • Financing you based on trust and your commitment in learning • Instant Decision
Applies only to the full portrait course and bespoke mentoring.
© All Rights Reserved Kelvin Okafor Art UK LTD 2020.
Company Registration No. 08440169