This is the beginning of a journey to learn the techniques developed and honed by award winning artist Kelvin Okafor starting right here, with learning how to draw an eye in a lifelike manner.
The art course teaches students how to draw using various methods, including: perspective, shapes and shadows, pencil, use of charcoal and chalk to draw the human eye.
Don't take our word for it, here is what our students have to say...
We value your feedback. Why don't you complete the course and leave a video testimonial.
"This is an excellent starting point for artists who want to take their drawings to the next level."
Video Tutorial
Module 1: Eye of Aisha
Smooth Cartridge Paper. Any weight but preferably (170gsm)
Graphite Pencils – Faber-Castell 9000: grades (5H) and (B)
Charcoal Pencil – Conte a Paris Pierre Noire (3B)
Wolff's Carbon Pencil – grade (B)
Stabilo CarbOthello Pencil – (Gray Warm 5)
Cretacolor White Chalk Pencil
Stabilo CarbOthello Sharpener
Cretacolor White Chalk Pencil
Cretacolor Monolith Eraser
Conte a Paris Pastel Pencil Sharpener
Pro Art POLAR 31 – White Nylon Brush
Jakar Compressed Charcoal – Assorted Grey Set
Cotton Buds/Q-Tips
Tortillon
This Academy course provides nearly 5 hours of real-time drawing of an eye.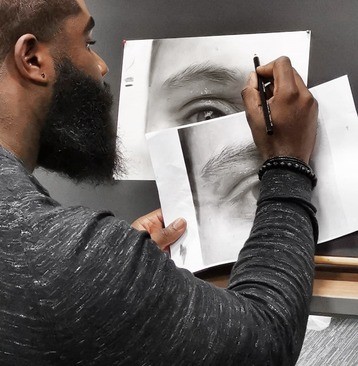 Understanding the materials/tools I use
Understanding proportions and shapes
Understanding how to draw using freehand
Understanding how to make outlines
Understanding how to apply the materials shown and used
Understanding tonal values/light and shaded
Understanding how to blend charcoal and graphite
Understanding how to texturize skin
Understanding how to draw pores and blemishes
Understanding how to make highlights and reflections on skin and eyes.
Academy studies deliver an in-depth, detailed video content of realism in drawing. They provide a foundation for you to develop your knowledge and enhance your skills.
From just one course you will become familiar with Kelvin's artistic process and use it to guide and evolve your own art practice.
Please Note – Kelvin will regularly update the courses offered on the Academy. Each new course will focus on a different bodily or facial feature.
FOLLOW KELVIN ON INSTAGRAM