John Lennon Limited Edition Prints!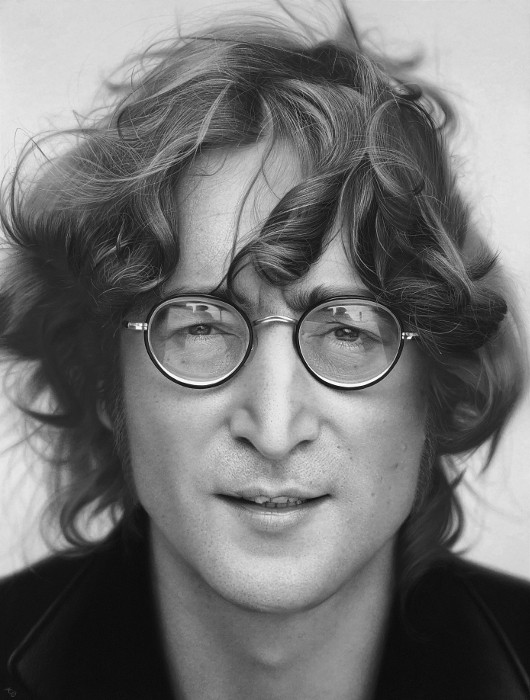 I particularly became more connected with John Lennon towards the latter years of his life. Looking at his journey through music and the public perception of his personal life, I felt that he was constantly on a search for truth. As he grew through his musicianship so did he as a being internally/spiritually.
It was truly a joy to spend over 215 hours drawing a man who gave a lot through his music and also through his acts which branded him as a "Man of Peace".
It was an honour to reveal this portrait of John Lennon to the public last week at my Solo Show: Retrospective at the Mall Galleries!
A HUGE thank you to all of you who came out to see the show and to everyone who helped bring the show to life! I was completely overwhelmed with the wonderful and kind reception.
Many thanks to Mall Galleries for providing me with the space to exhibit a selection of a decades worth of drawings and for also being the stepping stone in this artistic journey. 7 years ago, for the first time ever since graduating from university in 2009, I submitted a drawing into an Open Exhibition and it got accepted. That exhibition was The Threadneedle Prize at the Mall Galleries in 2012. Never did I imagine that very exhibition would be the kick-start which lead to a career in art.
LIMITED EDITION JOHN LENNON PRINTS!
I'm very excited to announce the release of my limited edition prints of my drawing of John Lennon!
There will be an edition of 50 hand-signed Giclée prints which will be accompanied with a signed certificate of authenticity. Print size details:
Image Size – 84 x 63.5cm (33.5 x 25in)
Paper Size – 94 x 73.5cm (37 x 29in)
Prints can be purchased via my account. And by clicking on the image above.
Contact: [email protected] for more details.
This month marks the 50th anniversary of The Beatles' "Abbey Road" album. A lovely tribute to John Lennon and The Beatles I feel this print will be!
Interview with BBC London & London Live News
During my exhibition last week at the Mall Galleries I had the pleasure of being interviewed by BBC London and London Live News! Many thanks to Shazia Mowlabaccus and BBC Journalist Michael McKenzie for making this possible.
Click on the images below to see the interviews!
Thank you all for your continued support and love!
MUCH LOVE!
4th Floor, Silverstream House, 45 Fitzroy Street, Fitzrovia, London, W1T 6EB
No credit checks required • Financing you based on trust and your commitment in learning • Instant Decision
Applies only to the full portrait course and bespoke mentoring.
© All Rights Reserved Kelvin Okafor Art UK LTD 2020.
Company Registration No. 08440169