10 LIMITED EDITION PRINTS
PRINT DETAILS:
 Bob Dylan
Medium: Giclee Fine Art Print on Hahnemühle Photo Rag Smooth Paper
Paper Size: 77.5 x 61 cm
Image Size: 60.5 x 54.5 cm
Year: 2023
 Each print is hand signed and numbered by Kelvin Okafor
Bob Dylan once described his music as "mathematical music". Lyrics to his songs are studied in academic institutions all over the world and have inspired generations of musicians, poets, litterateurs and artists in modern society.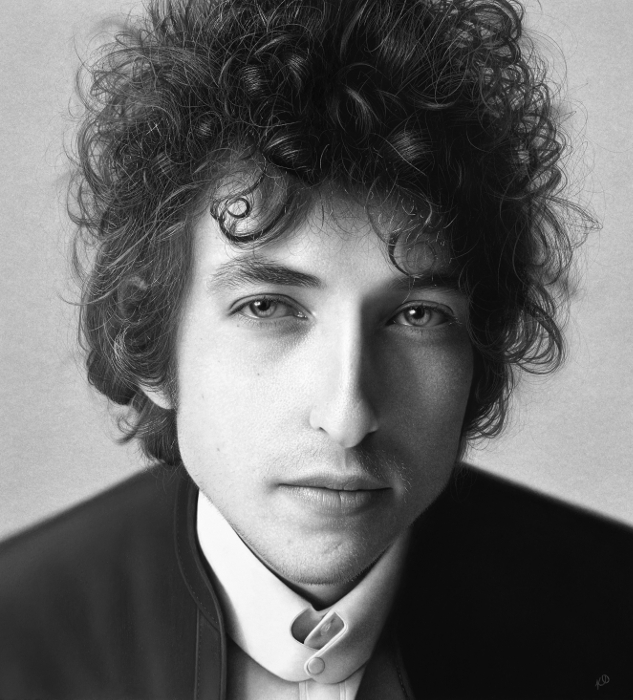 The "Counterculture" was an anti-establishment phenomenon which developed in the 1960s throughout Western world. This movement intensified as a result of the growing awareness of the Civil Rights movement in the United States and the intensification of the Vietnam War in that period of time. Social tensions were heightened during the counterculture period. But out of the chaos, new cultural forms emerged and gave birth to the likes of Bob Dylan who was able to create without the restrictions of censorship. Songs like "Masters of War" and "Blowin' in the Wind," were anti-war songs which were a protest against the Cold War nuclear arms build-up of the early 1960s.
I feel honoured to have embarked on a journey of drawing a being who paved the way for so many. I studied countless photographs and video footage to deepen my understanding of the intangible essence of Bob Dylan. I chose to predominantly reference a photograph of Bob Dylan taken by a photographer who became one of his closest friends, Jerry Schatzberg. I felt I could 'see' Bob Dylan through the lens of Jerry Schatzberg. The photograph I used was taken between 1965 and 1966 during the "Highway 61 Revisited" and "Blonde On Blonde" albums of Bob Dylan. I was particularly drawn to this era of Bob Dylan as I personally felt that he was becoming (or had become) the instrument he was destined to be.
Bob Dylan was truly an enigma of a being to capture. Even after 'completing' a portrait of him, there still lies so much depth to his presence that has left me feeling compelled to discover more.
ORIGINAL DRAWING DETAILS:
 Bob Dylan
Medium: Pencil on paper
Size: 43 x 39 cm
Year: 2023